How to publish an Insight object including its comments and history
Since version 7.0.7.0 of the Issue Publisher you can publish an Insight object with its attribute values (through an issue). As of version 9.8.0 you can also include its comments and history.
Lets say we want to publish the following Insight object: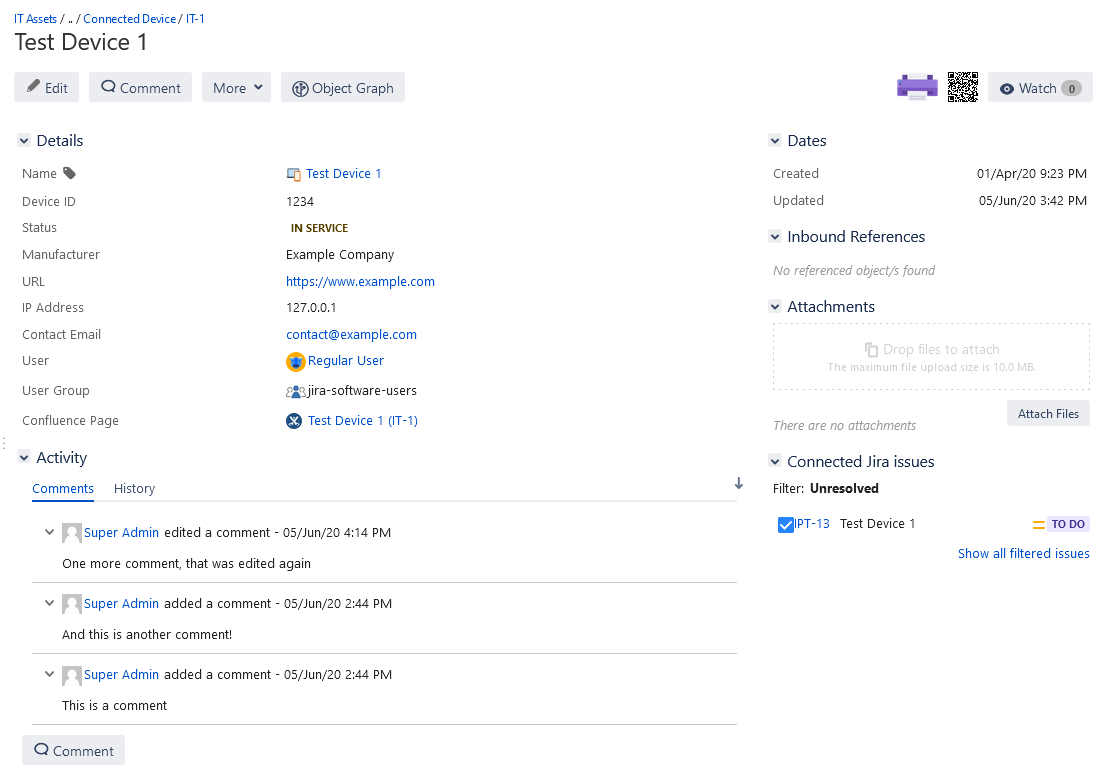 This object is selected in the Device custom field of the following issue: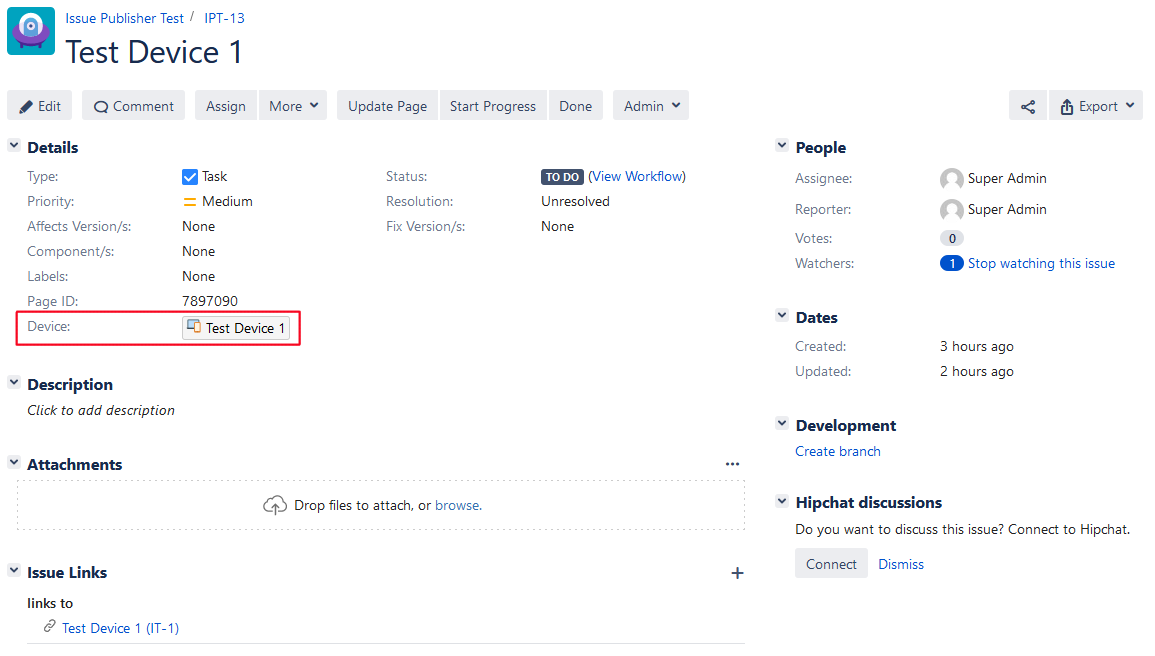 Then we can use the following Single Issue Storage Format Template e.g. in the Create new page action within a Single Issue Operation to create a new Confluence page containing all relevant information of the Insight object.
Page Title

#set($device = $!insightHelper.getObjectFromField($issue, "Device"))${device.label} (${device.objectKey})

Body

#set($device = $!insightHelper.getObjectFromField($issue, "Device"))

<h3 class="auto-cursor-target">Details</h3>
<table class="wrapped"><colgroup> <col /> <col /> </colgroup>
<tbody>
<tr>
<th>Name</th>
<td>$!insightHelper.getAttributeValue($device, "Name")</td></tr>
<tr>
<th>Created</th>
<td>$!fieldHelper.getDateTimeAsString(${device.created})</td></tr>
<tr>
<th>Updated</th>
<td>$!fieldHelper.getDateTimeAsString(${device.updated})</td></tr>
<tr>
<th>
<p>Device ID</p></th>
<td>$!insightHelper.getAttributeValue($device, "Device ID")</td></tr>
<tr>
<th>Status</th>
<td>
#set($statusValue = $!insightHelper.getAttributeValue($device, "Status"))
#if($statusValue)
#set($statusColour = $!insightHelper.getStatusCategoryColour($statusValue))
<div class="content-wrapper">
<p><ac:structured-macro ac:name="status" ac:schema-version="1" ac:macro-id="$macroHelper.newId()"><ac:parameter ac:name="subtle">true</ac:parameter><ac:parameter ac:name="colour">$statusColour</ac:parameter><ac:parameter ac:name="title">${statusValue.name}</ac:parameter></ac:structured-macro></p></div>
#end
</td></tr>
<tr>
<th>Manufacturer</th>
<td>$!insightHelper.getAttributeValue($device, "Manufacturer")</td></tr>
<tr>
<th>URL</th>
<td>
#set($urlValue = $!insightHelper.getAttributeValue($device, "URL"))
#if($stringUtils.isNotBlank($urlValue))
<p><a href="$urlValue">$urlValue</a></p>
#end
</td></tr>
<tr>
<th>IP Address</th>
<td>$!insightHelper.getAttributeValue($device, "IP Address")</td></tr>
<tr>
<th>Contact Email</th>
<td>
#set($contactMailValue = $!insightHelper.getAttributeValue($device, "Contact Email"))
#if($stringUtils.isNotBlank($contactMailValue))
<p><a href="mailto:$contactMailValue">$contactMailValue</a></p>
#end
</td></tr>
<tr>
<th>User</th>
<td>$!insightHelper.getAttributeValue($device, "User").getDisplayName()</td></tr>
<tr>
<th>User Group</th>
<td>$!insightHelper.getAttributeValue($device, "User Group")</td></tr>
<tr>
<th>Confluence Page</th>
<td>
#set($pageIdValue = $!insightHelper.getAttributeValue($device, "Confluence Page"))
#if($pageIdValue)
#set($selectedPage = $confluenceHelper.getPage("$pageIdValue"))
<p><a href="${remoteServer.displayUrl}/pages/viewpage.action?pageId=$pageIdValue">$selectedPage.getTitle()</a></p>
#end
</td></tr></tbody></table>

#set($comments = $insightHelper.getComments($device))
#if($collectionHelper.isNotEmpty($comments))
<h3 class="auto-cursor-target">Comments</h3>
#foreach($comment in $comments)
<table class="wrapped">
<tbody>
<tr>
<td>Created: $!fieldHelper.getDateTimeAsString(${comment.created}) by $!userHelper.getUserByKey($!{comment.author}).getDisplayName()</td>
#if(${comment.created} != ${comment.updated})
<td>
Updated: $!fieldHelper.getDateTimeAsString(${comment.updated})</td></tr>
<tr><td colspan="2">${comment.comment}</td></tr>
#else
</tr>
<tr><td >${comment.comment}</td></tr>
#end
</tbody></table>
#end
#end

#set($objectHistory = $insightHelper.getObjectHistory($device))
#if($collectionHelper.isNotEmpty($objectHistory))
<h3 class="auto-cursor-target">History</h3>
<table class="wrapped"><colgroup> <col /> <col /> <col /> <col /> <col /> <col /> </colgroup>
<tbody>
<tr>
<th>Created</th>
<th>Type</th>
<th>Actor</th>
<th>Attribute</th>
<th>Old value</th>
<th>New value</th></tr>
#foreach($historyItem in $objectHistory)
<tr>
<td>$!fieldHelper.getDateTimeAsString(${historyItem.created})</td>
<td>$!insightHelper.getHistoryTypeName($historyItem)</td>
<td>$!userHelper.getUserByKey($!{historyItem.actorUserKey}).getDisplayName()</td>
<td>$!{historyItem.affectedAttribute}</td>
<td>$!{historyItem.oldValue}</td>
<td>$!{historyItem.newValue}</td></tr>
#end
</tbody></table>
#end
The resulting page looks like this: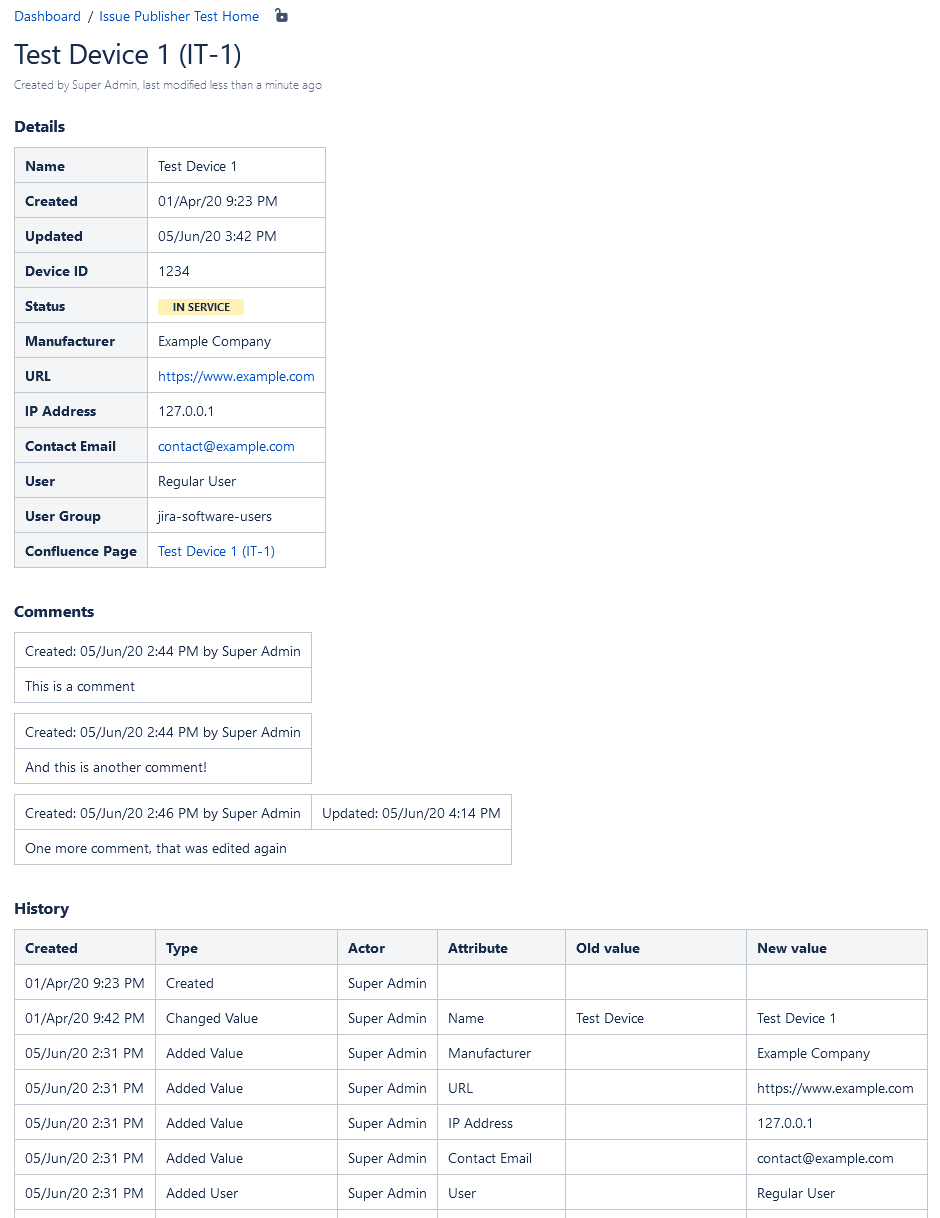 The comments and the history are sorted from oldest to newest, but you can reverse the order using $collectionHelper.reverse($collection):
#set($comments = $collectionHelper.reverse($insightHelper.getComments($device)))
and/or
#set($objectHistory = $collectionHelper.reverse($insightHelper.getObjectHistory($device)))